We are now living comfortably thanks to Caritas Czech Republic
After fleeing their countries of origin because of conflict, war, persecution, and human rights abuses, life was never the same again. They left behind their small businesses and sources of survival to start a different life in a foreign country. But, for these women, the basket weavers, their lives have been made better thanks to Caritas Czech Republic in Zambia.
Ndaye Cibola Basket Weaver
Ndaye Cibola, is a 36-year-old woman originally from Congo who now lives in the Mayukwayukwa refugee settlement.
Before she started basket weaving, she was just a smallholder farmer who could barely afford to take care of her family. Being a single mom of 5 children, she needed to be providing all the basic needs of her family but she was unable to because she had no source of income. 
Thanks to Caritas Czech Republic in Zambia, Ndaye is now able to take care of her family through basket weaving and is now practising farming on a larger scale. 
"I'm now able to buy all the school needs for my children through basket weaving as well as to feed my family", says Ndaye.
Ndaye also adds that she has received fertiliser and other farming inputs from Caritas Czech Republic to help her expand her small field to a bigger field.
According to her, this is the support she will forever be grateful for. 
Roza Jamba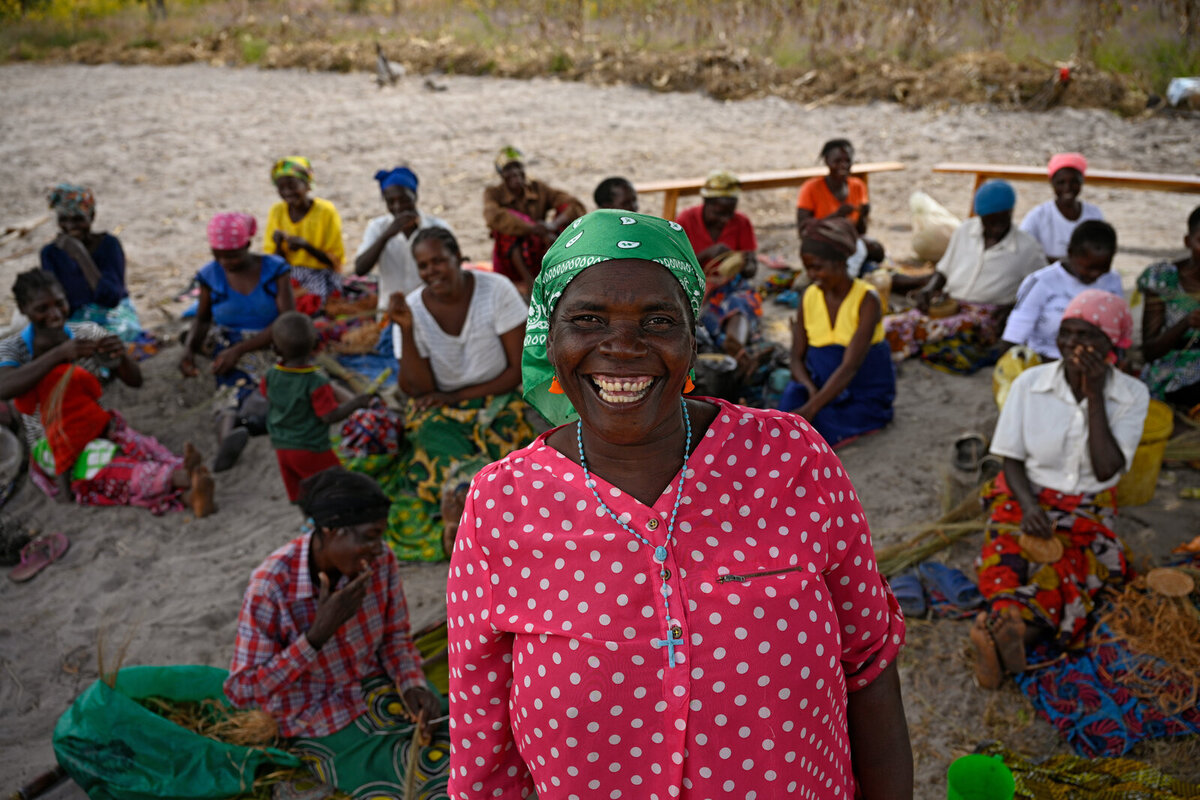 Roza Jamba, is a 48-year-old refugee from Angola who, like Ndaye also stays in the Mayukwayukwa refugee Camp. She recently joined the team of women and ladies involved in basket weaving. 
Her life, just like other refugees, has been hard. It is only now that she started that her life is transforming. 
"I joined this team of amazing women basket weavers in February 2022 and my life has not been the same again," she said while smiling and weaving her basket. 
Prior to joining the team, Roza used to weave baskets she would sell locally, after joining the team, she underwent training on weaving for the international market. 
"It took me just two days of intensive training to master the art of weaving for the international market. Thank you Caritas Czech Republic for giving me this opportunity to learn and perfect my skill to international standards", Roza said.
We want to help many other refugees
Caritas Czech Republic understands the challenges and struggles many refugees and other persons of concern go through in foreign countries, that's why it stands with the refugees and commits to helping them to become self-reliant.
Caritas Czech Republic has been helping the basket weavers with market linkages abroad and within the country Zambia through an organisation called Free Zambia.
Interested in more news like this? Read more: