Best of 2021 in Caritas Czech Republic in Zambia
Just like 2020, the year 2021 was a year like no other. We had our highs and lows. It was more like a roller-coaster especially with the outbreaks of new Covid-19 variants. Despite the challenges that affected many, including Caritas Czech Republic in Zambia, there were definitely moments that we cannot forget. Let us take you through our moments of 2021 that should be remembered. 
1. Baskets made by the women supported by Caritas Czech Republic in Zambia made it to the first ever continental exhibition  
Caritas Czech Republic in Zambia supports refugees to become independent and stand on their own two feet. So, as one of our initiatives, we were supporting women from refugee communities to earn a living by making baskets under the "For Refugees-by-Refugees project".  
It was exciting to see baskets made by the women we support in Mayukwayukwa  refugee settlement under the basket making Initiative called Free Zambia at the first-of-its-kind continental exhibition dubbed "36 million Solutions" in Kigali, Rwanda. This exhibition brings together business leaders, refugee change makers and the public sector in Rwanda to find solutions to forced displacement in Africa. [Text Wrapping Break] 
The baskets were bought and taken to the exhibition by Free Zambia, a Caritas Czech Republic in Zambia and UNHCR Zambia partner. These baskets will be taken to Geneva by Free Zambia for another exhibition to be held online.  
2. W
e held the annual DAFI Scholarships Programme workshop
We were very happy to organise the DAFI scholarships programme workshop which we unfortunately could not hold the previous year due to Covid-19.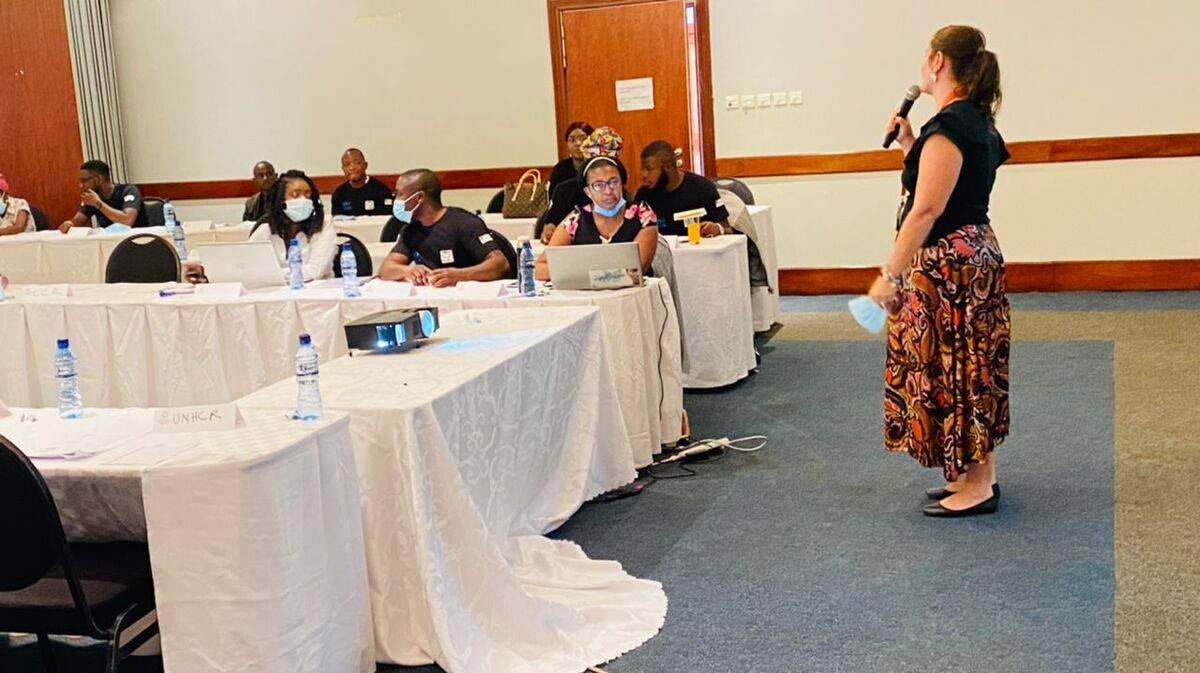 At Caritas Czech Republic in Zambia, we want to support especially refugees who cannot afford quality education from top universities in Zambia. The DAFI scholarship is one of the ways we are helping refugees to pursue a university degree. 
This year, we were excited to hold the Albert Einstein German Academic Refugee Initiative (DAFI) scholarship programme under UNHCR and also the Caritas Czech Republic annual DAFI Scholarship programme workshop at M'kango Golfview Hotel in Lusaka under the theme "Creating employment pathways and Opportunities for refugee graduates". 
The workshop aimed at encouraging, mentoring the students, and discussing some of the issues they are facing as students and graduates. 
You can learn more about DAFI and how Caritas Czech Republic in Zambia is helping refugee students here.  
3. W
e scaled up the Honey Production in refugee settlements
When we first started with beekeeping in the Mantapala refugee settlement in Luapula Province, many community members were skeptical. "Some of the prospective people we support were afraid of getting bitten by the bees. Others doubted beekeeping would bring any economic benefit," explained Kennedy Simbao, the project coordinator at Caritas Czech Republic in Zambia in Nchelenge. 
We did not give up. After a lot of sensitizations, we trained those who had the courage to try. Mentors were identified in the community to support the new beekeepers and help them to maintain their hives. We also had a good market thanks to Bee Sweet Honey who became our main off-taker. 
The first harvest in 2020 was almost 600 kilograms of honey and the beekeepers were even able to sell all their honey. This made other community members interested.   
In 2021, the farmers in Meheba refugee settlement that we supported in the honey production managed to harvest 340 Kgs (17 buckets of 20L) of unprocessed honey bringing the total harvestof the year  to 2,428 Kgs which they sold at their local market. Honey production and beekeeping are being supported in 3 locations, Meheba, Mantapala and Mayukwayukwa refugee settlements.  
4. W
e supported more than 200 disadvantaged students to learn new skills 
The youth unemployment rate in Zambia is about 22 percent and especially refugees and students from host communities are facing difficulties with getting a job. This is why the programmes that support young people in learning new skills are crucial as they help them to differentiate themselves in the labour market.  
 In 2021, we supported over 200 refugee and host community students from disadvantaged homes through our Vocational, Entrepreneurship, Sponsorship training programme funded by UNHCR and the Ministry of Foreign Affairs of the Czech Republic.  
Our programme started in 2014 and is being carried out in all the four mission's locations Mayukwayukwa, Meheba, Mantapala and Lusaka. All the students being supported under this programme are enrolled at different Techinical, Education, Vocational and Enterpreneurship Training Authority institutions (TEVETA) where they undergo 6 months of training in various trade courses like tailoring, electrical engineering and many other courses of their choice.  
Apart from the 200 students, 80 more students in each of the 4 locations were sponsored with support from the Ministry of Foreign Affairs of the Czech Republic. This sponsorship covers all the accommodation fees, consumption allowance, tuition and travel costs to and from school, as well as start-up capital that is given after the completion of the trade and entrepreneurship training.  
During their break, the students underwent entrepreneurship training called Start Your Business (SYB) after which the students must present a business plan. 
5. Caritas Czech Republic in Zambia and Big Terra launched a mobile weather app for Zambian farmers
To support good agriculture amidst climate change, Caritas Czech Republic in Zambia and Big Terra have launched a new and easy-to-use mobile app to help Zambian farmers cope with climate change crises. This app provides farmers with important information about their plants and weather.   
It is notable that farming in Zambia has become a source of income and food as many Zambians depend on it but unfortunately due to climate change issues, the yield has not been very good over the past years. 
According to Pavel Jurus, the founder of Big Terra, the app aims at supporting sustainable farming around the world by providing adequate information based on satellite data, weather and climate models, crop modelling and local data to farmers in various locations. 
Among the many things the app can do is help farmers plan sowing properly, provide information on suitable crops for the current period and procedures for increasing the profitability of production, give tips on how to adapt to weather conditions that are changing due to the influence of climate change and how to make sure that the methods they use lead to long-term sustainable results.  
You can read more about the app here.  
6. We supported businesses affected by the Covid-19 pandemic through our Cash-Based Initiative
The Covid-19 shock has been severe and widespread across businesses, with a persistent negative impact on sales. Small businesses, particularly local businesses across Zambia, gravely felt the brunt of the financial dislocations. Most small businesses completely shut down, condemning hundreds of families into abject poverty. That is why, as Caritas Czech Republic in Zambia, we took an initiative to help a few businesses that were greatly affected by the pandemic and were on the verge of shutting down. 
One of the people we supported is Amos Phiri of Lusaka Province. In 2020, through the Covid-19 Cash-Based Intervention initiative, we supported him with a 10,000.00 kwacha which he invested in his onion business. 
Because of the challenges of Covid-19, Amos Phiri's business almost died. His orders dropped to 50 bags of onion from 200 bags. 
"Many people were not moving due to the Covid-19 pandemic and my goods were just going to waste because they're perishables. I nearly lost everything. Thanks to Caritas Czech Republic in Zambia for helping me with the grant." 
You can read more about Amos Phiri and how we helped businesses affected by Covid-19 here.  
7. We s
upport
ed f
inancial
inclusion and literacy of rural communities through Informal savings groups 
In order to assist in promoting financial education and financial inclusion of rural communities in the Nchelenge, Kawambwa, Mwansabombwe and Chiengi districts of Luapula province, Caritas Czech Republic in Zambia in partnership with Financial Sector Deepening Zambia (FSD Zambia) successfully formed 8 Chiefdom Financial Inclusion Committees and 743 savings groups with a total membership of 14, 881 (9, 733 women and 5,148 men. From the total membership, 1,600 are youths). This also includes 16 savings groups in Mantapala Refugee Settlement. 
Most people in rural areas lack financial literacy. Lucky for them, Caritas Czech Republic in Zambia and FSD Zambia are teaching them the basics on how to save and invest their money through the savings groups.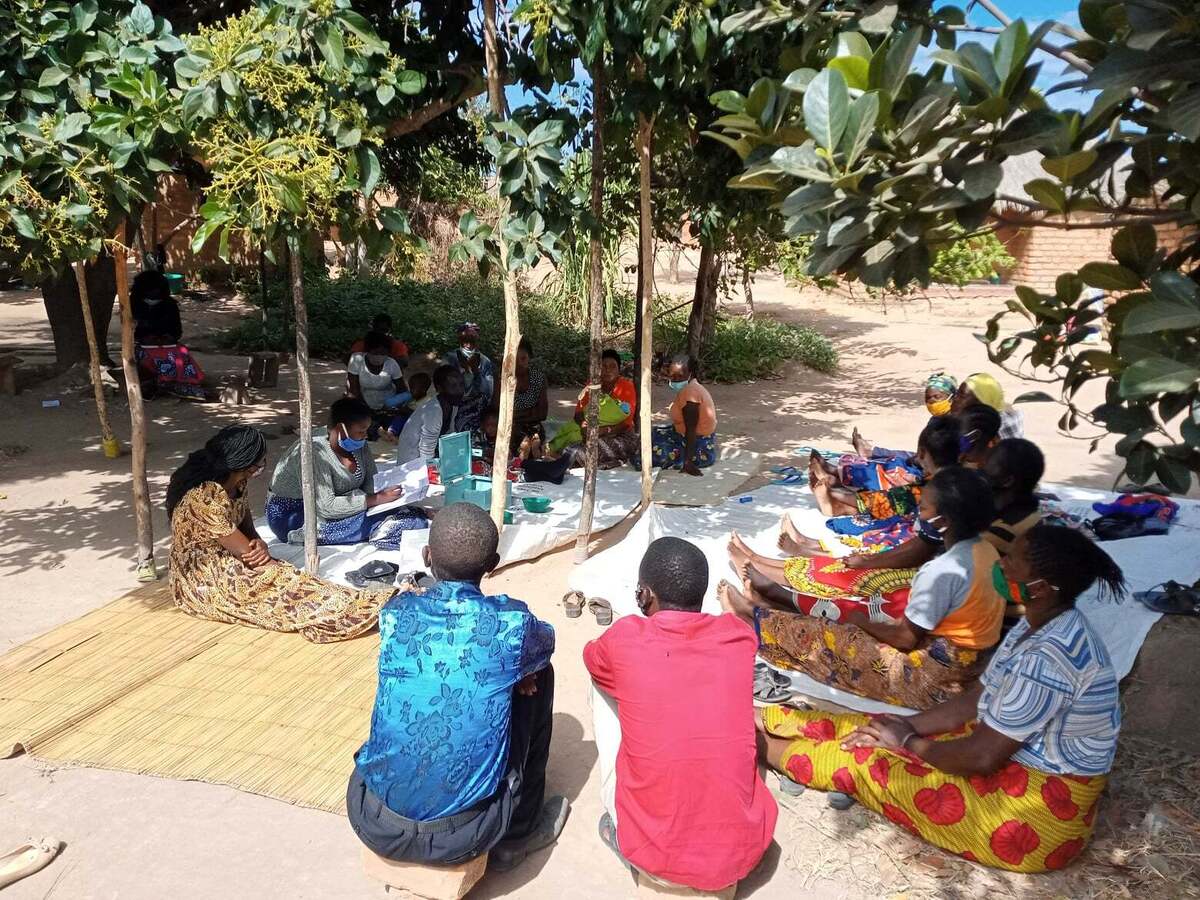 114 Savings Groups have been linked to formal financial products and services through VisionFund Zambia. These groups have opened group savings accounts and 2 groups have managed to access group loans from VisionFund Zambia to enable them to start up some small businesses and invest into farming.  
O
ur
hope is to do more in 2022 and many years to come
In the past year, Caritas Czech Republic in Zambia has done much more than what is mentioned above. Our hope is to do more work for vulnerable people despite the Covid-19 hardships that everyone is going through. We are determined to carry on our work.