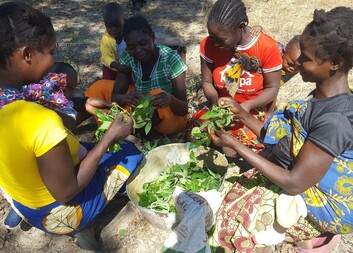 Baby Richard is on the road to recovery from Malnutrition thanks to Caritas Czech Republic
Richard is a two-year-old boy who, thanks to Caritas Czech Republic and the World Food Programme in Zambia, participated in the important Maternal, Infant and Young Child Nutrition (MYCIN) and Growth, Monitoring and Promotion (GMP) programme that benefits his entire community and help him recover from Malnutrition.
Richard gets diagnosed with Malnutrition
Having been born in a less privileged home on 16th March 2019 to Ms Queen and Mr Mubanga in Muanga village of Kalumeyoyo area in Kafwasonyi refugee camp, Richard's growth rate was poor. He suffered from weight loss, lack of appetite, swollen legs and was getting sick frequently.
Fortunately for Richard, our trained Community Health Volunteer (CHV) Justine Kawanga identified him during the Community under 5 programme, and registered him in our Maternal, Infant and Young Child Nutrition (MYCIN) and Growth, Monitoring and Promotion (GMP) programme.
"After checking the baby, the community health volunteer advised the mother to take Richard to the nearest health centre because he was showing signs of malnutrition," says Jebson Tembo, Caritas Czech Republic field officer in Kaoma District, Western Province.
Richard gets the help he needs
Thanks to Caritas Czech Republic in Zambia, Richard's mother has joined the regular cooking demonstrations under the programme and learned how to prepare nutritious meals for her son. Richard received the nutritional help that he needed and his mother has been fully cooperative in ensuring that her baby gets better.
As of now, baby Richard's health has improved, he is showing evident weight gain and is no longer presenting signs of swelling.
Thanks to the Maternal, Infant and Young Child Nutrition (MYCIN), and Growth, Monitoring and Promotion (GMP) programmes in the area, the children's well-being has improved and malnutrition levels have decreased.
About Kalumeyoyo Camp
Kalumeyoyo is one of the areas in the Kafwasonyi camp in Kaoma District. It is located about 33 km from Kafwasonyi School and 15 km from Kabilamwandi Rural Health Center.
According to Mr Tembo, the long distances make it hard for locals to reach proper health services, as quality healthcare is missing in the area. It is even more difficult to provide proper care to children under the age of five, resulting in high levels of poor child growth rate, which is rarely observed in rural health centres.
"The health centres are also overwhelmed by the population and some mothers find it difficult to take their children to the facility because to the long distances they have to cover to get to the nearest health centre," adds Jebson Tembo.
About the Project
In 2021, World Food Program and Caritas Czech Republic with support from the Czech Development Agency trained community health volunteers in Maternal, Infant and Young Child Nutrition (MYCIN), Growth, Monitoring and Promotion (GMP), household hygiene and prevention of common diseases in pregnant and lactating women.
These community health workers come from primary health care points set up in the community to help identify health problems at the community level before going to the rural health centre.
Our target groups are pregnant, lactating women and adolescents' girls with the aim of eradicating malnutrition in children under five years of age.
"To have good results from the project, the trained community health volunteers have formed groups which are divided into 2 categories, adolescent girls' group and pregnant and lactating women group. The trained volunteers conduct lessons with the women at the community level at least twice a month," adds Mr Tembo.
We are hopeful that this project will help as many children who are in Richard's shoes.